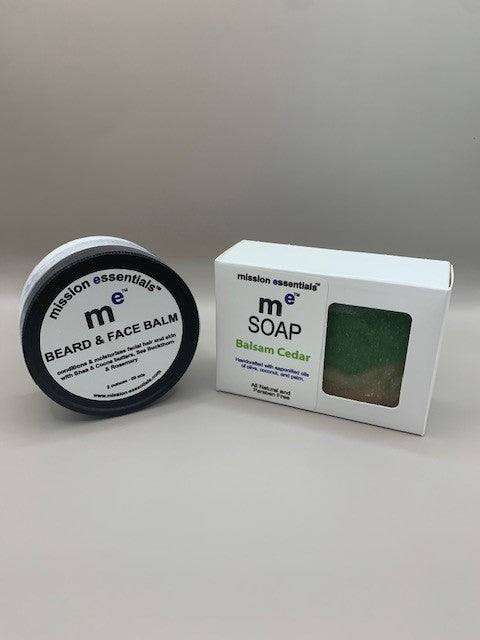 Beard & Face Balm and Soap Set
Regular price $25.00 Sale
Here's the perfect duo! Our Beard & Face Balm paired with one of our natural soaps* (another bundle and save option)
*Pictured here with our Balsam Cedar Soap Bar - please choose from the drop-down list.
Beard & Face Balm-After numerous requests, we have created our signature blend using all natural ingredients that lock in moisture and provide a healthy shine to facial hair while softening the skin and shaping your beard. No beard? It's still the perfect product! Simply apply to face after shaving to re-moisturize skin. A wonderful conditioner for facial hair and skin with a subtle spicy scent of rosemary and tea tree oil. Each jar is 2 oz size.
Ingredients: Shea butter, cocoa butter, beeswax, jojoba seed oil, sea buckthorn extract, grapeseed oil, tea tree oil EO, rosemary EO & vitamin E

Instructions: Apply sparingly to face and facial hair by warming up pea-size amount in hands and massaging in. Rub into face as well to alleviate dry itchy skin. Add more as needed but a little truly does go a long way!
This product is: Chemical Free, Reef Friendly, 100% Natural, Paraben Free, SLS Free, Recyclable package, uses Essential oils, No harsh chemicals, Non-greasy formula